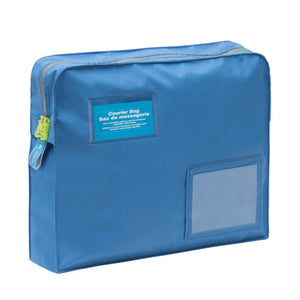 SECURISAC Tamper Evident Courier Bag (16" x 12" x 4")
Sale price Price $49.00 Regular price Unit price / per
Send important documents safely and securely with the SECURISAC Tamper - evident courier bag. These courier bags are ideal for two-way transmission of documents. It's reusable up to 2,000 cycles and has an address window for quick and easy dispatch.
What is a Securisac Bag?  SECURISACS are reusable and tamper evident security solutions that are used to transport, protect and store a wide variety of items.
The Securisac System
SECURISACS are a cost effective alternative to single use envelopes for the two-way transmission of mail between head office, branches, depots and field representatives.
Why Securisac?
Tamper Evident : Securisac seals provide tamper evident protection for the contents of your Securisac.
Re-usable: Securisac bags can be used time and time again for transportation, protection and storage.
Cost-effective: Securisac bags provide a cost-effective alternative to single use products.
Long Lasting: Securisac bags are designed to withstand years of constant use and are supplied with a 5 year warranty against faulty workmanship and materials.
Environmentally friendly: Securisac bags are designed to replace a nuimber of single use paper and cardboard products.
Water Resistant: Securisac bags are manufactured from a durable pvc coated nylon material which protects its contents from water damage.
Benefits of Securisac
Tamper evident Securisac seals provide evidence of opening
Heavy duty material protects contents
Designed to last for over 2,000 trips
reversible address card printed both sides for quick and easy use
Stamp fitment for use with mail and courier systems